About Us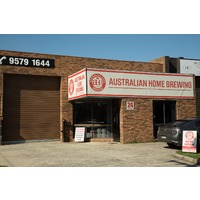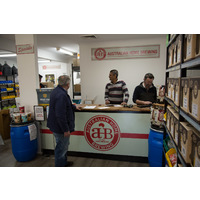 We love hearing from our valued customers, so feel free to contact us any time. To find out a little bit our rich brewing history read a little of our story below.
AUSTRALIAN HOME BREWING - Melbourne Est. 1968
Australian Home Brewing was founded in 1968 as the world's first dedicated home brewing company. In fact this was 4 years prior to home brewing becoming legal in Australia. For fear of being held to account by one of the Giant Australian Brewers, all the original materials published by AHB were followed by the description of "Supplier of Home Wine Making Equipment, Ingredients& Books". Not a mention of beer even though beer brewing was core business from day one.
It was not until 1972, when the newly elected Whitlam Government legislated to break the power of the Big Brewing Cartels, that Australians were finally allowed to brew at home . Attorney General, Lionel Murphy changed the law and Australian brewers have never looked back.
From the beginning
So back in 1968 Australian Home Brewing was founded out of a garage in Hughesdale Victoria. It was not long before word had spread and the back yard shed was choc a block full of hops grains, bottles and brewing gear and the first shop was established around the corner at 149 Poath Rd, Hughesdale.
Interest in home brewing quickly surged in the 70s and the range and quality of ingredients expanded with it. At this time,the first of our famous beer recipes was published using malt extract, glucose, grains, hops and imported German Vierka Beer yeast. The original recipes came with a 16 step instruction sheet and were named the very imaginative "AHB Lager, Pilsner, AHB Bitter Beer, Dark Munich Lager, Light Lager and Irish Type Stout. Brewer's all over Melbourne loved their hobby and loved sharing their new beers.
There was also plenty for the wine makers and AHB become a hub for enthusiasts keen to brew "Royal Reserve Bilberry or Elderberry Port", Mead, Rosehip, Mulberry, Strawberry or Rose Petal Wines .
Throughout the 1970's the hobby of brewing grew by word of mouth in the 80's AHB became the first distributor of Coopers Malt Extract products which later evolved into the Coppers Home Brew Kits. The wholesale business also grew as brewing shops opened up all over the country and home beer making boomed. Brewing was easy, fun, anyone could do it and it tasted great.
The 80s
In 1982 the business changed hands for the first time when Mike Rodgers-Wilson purchased the business from the founder Mike Stevens. Mike had a flair and passion for writing and publishing and recognised that he needed to reach brewers all over Australia and established "The Brewers Herald" newsletter and the famous "Brewers Bugle". They were much loved and anticipated publications and off the back of the new readership, mail orders began to flow in. Mike also authored and self-published Australia's biggest selling Home Brewing book titled, you guessed it, "Home Brewing" which sold over 100,000 copies. Also the famous home brewing brand of craft beer products and recipe packs known as "Brewcraft" was established by AHB during this period.
The 90s
In the 90's AHB was bursting at the seams and the business was moved to 103 Poath Rd to a double storey corner shop and a warehouse was rented across the road behind the TAB. With these facilities AHB grew and was able to serve a growing wholesale demand as well as import shipments of goods directly from interstate and overseas suppliers. In the mid 90's AHB was the first business in Victoria to distribute for a small Company out of Wellington New Zealand, known as Still Spirits. We were at the forefront of the Australian Home Spirit Revolution and our partnership was so strong that AHB sold its famous Brewcraft Brand to Still Spirits and they renamed their Company to become "Brewcraft". The Brewcraft name had the street cred brewers loved and Kiwis craved. Still Spirits has become the world's leading home spirit brand and our strong friendship with Bros across the ditch continues to this day.
In 1998 AHB's first website containing the "brewcraft"domain name was established. It was an online info newsletter and recipe hub. Brewers would check out the recipes and then call us for a mail order and then post in the cheque. By 1999 things had moved and our first online shopping cart was established and the site changed its domain name with the sale of the Brewcraft name to become "liquorcraft". Ecommerce shopping as we know it, became a reality… although we were still years off being mobile enabled.
Beyond Y2K
Things were always progressing at AHB and by the early 2000,s amidst a boom in craft beer and spirits, volume was yet again outgrowing the space available in Hughesdale. A much larger warehouse at Eskay Rd Oakleigh South was purchased and this is where headquarters remains to this day.
The website product range continued to expanded alongside our physical space, and in 2008 we purchased a retail shop at 143 Church St Richmond to service the brewers and hipsters of inner Melbourne. At the same time we expanded online selling and our very first products on the Australian Ebay site were listed. A couple of dented malt extract cans were quickly sold to a bargain hunting brewer in Northern Queensland. Ebay was largely trash and treasure and second hand goods site at this time. We listed a few bits and pieces along with a small range of new gear including beer recipes, malt extract, fermenters, spirit yeasts and bottles…and within a year we had racked up 1000 sales and hundreds of new customers all over Australia.
You Tube and Ebay went hand in hand and in September 2010 our You Tube channel was established. Our first how to video which has was published "How to make Great Beer in 3 Easy Steps" and today it has had well over 100,000 views and our channel has topped the 1 million view mark and growing…
Today, along with our best friends we continue to brew because we love it. Making and sharing great brews just makes the world a little more social.
Cheers to all the Brewers out there.