Grainfather S40 SUPER KIT All Grain Brewing System / includes Sparge Heater + extras
$895.00
RRP $943.90
SAVE $48.90 (5%)
Sold Out
This Super Kit package includes:
Grainfather S40 All Grain Brewing System
18L Sparge Water Heater
High Performance Cleaner
Stainless Steel Paddle
See a full description of all contents below
The S40
The Grainfather S40 is part of the Grainfather S Series. The S Series features non-connected Grainfather products that are easy-to-use, with quality build and 304 grade stainless-steel components at a cost-effective price.
The Grainfather S40 All-Grain brewing system has a 45L capacity, allowing you to create up to 40L of beer every time that you brew. Don't be fooled by the price, the S40 is packed full of features and made with high-quality materials to ensure brew days run smoothly for any level of homebrewer
Use in conjunction with the Grainfather App for a semi-automated step-by-step guide throughout your brew.
| | |
| --- | --- |
| Batch Volume | Grain Bill |
| Maxium: 40L | Maximum 10kg |
| Minimum: 10L | Minimum 5Kg |
FEATURES
S40 body built out of high grade, 304 stainless steel
Easily manage heating using the digital controller with backlit display
Built-in pump and recirculation arm maximises mash efficiency through a recirculating infusion mash system (RIMS)
Easily cool wort with the stainless steel immersion chiller
SUPPORT
We're confident that our products will produce professional results, just like the craft breweries. That's why every S40 comes with a 2-year warranty fully supported by Australian Home Brewing.
Additional Instructions: GRAINFATHER S40 INSTRUCTIONS pdf
| | |
| --- | --- |
| WHAT'S INCLUDED | SPECS |
| Built-in pump | Size: 680 x 530mm |
| Stainless-Steel Grain basket | Weight: 18kg |
| Stainless-steel lid | Max preboil volume: 46L |
| Immersion chiller, hoses & connection fittings | Batch volume: Maximum:40L | Minimum: 10L |
| Recirculation arm & wort sprayer | Grain bill: Max: 10kg | Min: 5kg |
| Instruction Manual | Power: 2300W, 230V |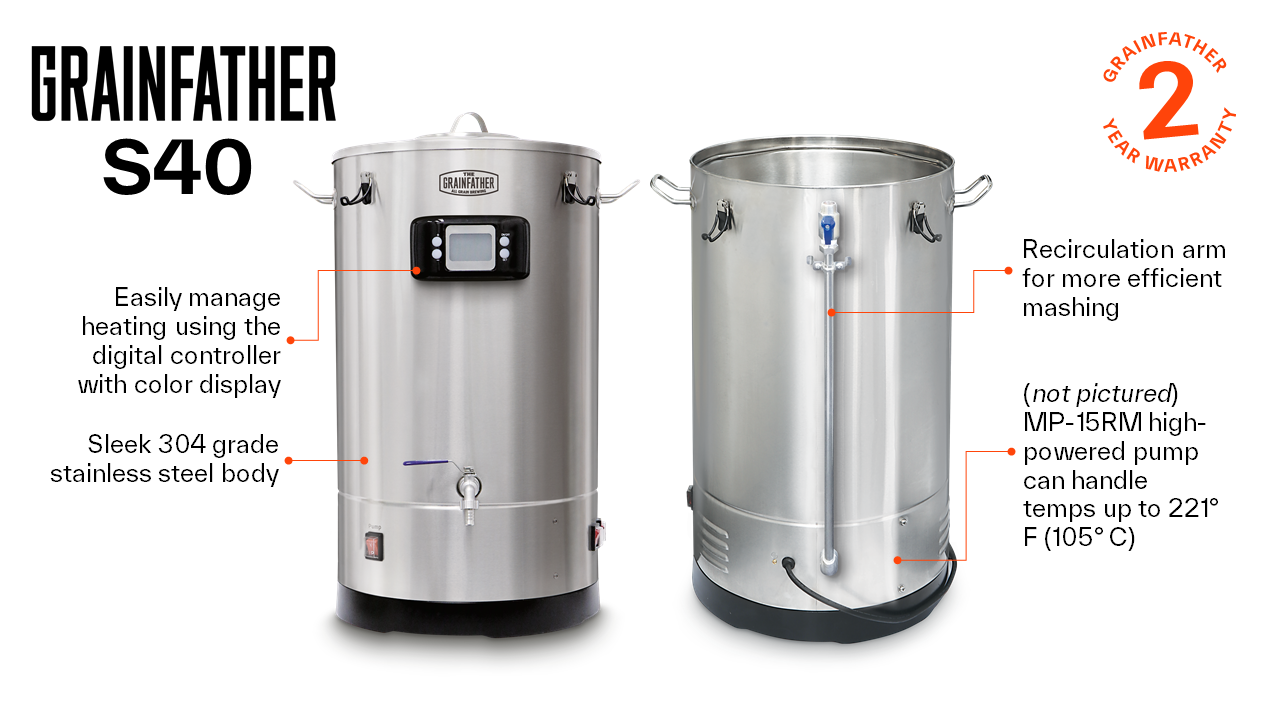 The 18L Sparge Water Heater
The Grainfather Stainless Steel Sparge Water Heater is a temperature controlled unit with 18lt capacity. Heat your sparge water to the correct temperature ready to go at the time of sparge.
When you heat your sparge water when you begin the mash it is ready for when you need to sparge. Once water is at required temperature, it will hold that temperature until changed or turned off. Also features sight glass, tap and heating lights.
Features
18 L Capacity
Stainless Steel Body
2 kw Element
Sight Glass (with 1 L graduations visible)
Tap
Accurate Temperature Control
Heating Lights (to indicate input temperature has been reached or is still being heated)
The High Performance Cleaner
Grainfather High Performance Cleaner is specially formulated to be used with the Grainfather and to be used on both stainless steel and Copper. It is important to use the right type of cleaners because during mashing excess proteins produced can scold on hot surfaces and can be a challenge to remove. The job is easy and gentle with this product. It is also does a great job in the counterflow wort chiller and pipes.
The Stainless Steel Paddle
You will need stainless steel rather than a plastic paddle to stir the mash whilst it is hot - 61cm overall length.
Special Note Regarding Shipping: Due to its weight & size this parcel can not be shipped via Australia Post. In some cases freight rates may need to be adjusted depending depending delivery costs in your area, if this is the case we will be in touch right away with a freight quote. Alternatively to confirm a final shipping cost priot to booking, please call us on 03 95753900 and ask for a quote.
| | |
| --- | --- |
| Brand | Grainfather |
| Shipping Weight | 95.0000kg |
| Shipping Width | 50cm |
| Shipping Height | 50cm |
| Shipping Length | 30cm |
| Shipping Cubic | 0.075000000m3 |